June 15–18, 2017 Sodankylä Midnight Sun Film Festival
Explore the webpages and you will understand why the Midnight Sun Film Festival festival is so fascinating! I hope to see many of you in Lapland!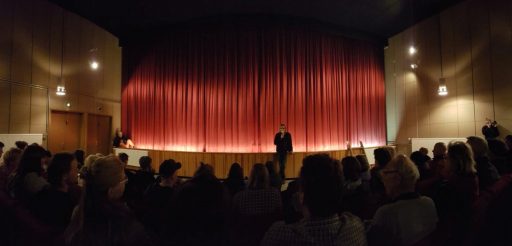 Please, find below a link to a questionnaire for collecting information about every conference participant's plans to attend the Midnight Sun Film Festival June 15-18 after our main conference. In case you intent to attend, please, reply in your earliest. All information is confidential and only for the knowledge of the 2 key SCSMI2017 organisers (myself and my assistant Desiree).
https://docs.google.com/a/aalto.fi/forms/d/e/1FAIpQLSfL2FsVs-CzQ1-gYNbQEEX2DP61KQqoGtD5E7U2bWR8nj4dRQ/viewform
The information will help us to organise joint events at the MFF, reserve seats for special events, etc.
IMPORTANT TO NOTE that all expenses and organisation of the travels to and accommodation at the film festival are on the sole responsibility of each individual participant. However, we SCSMI2017 conference organisers do our best to facilitate the travel to and accommodation in Sodankylä.
The night train Helsinki – Rovaniemi, I suggest to you, leaves from Helsinki at 18:52 on the 14th of June, and returns at 21:15 from Rovaniemi on Sunday the18th of June (arriving Helsinki morning of the19th). The train has cabins for 1-2 with or w/o showers. To cut the price in half, we suggest you to find out from SCSMI colleagues, with whom you could share a cabin. To travel by the train allows us to continue joint discussions while travelling through the Finnish landscape in the summer night light! Information of reservations and the night travel conditions can be checked here. Note, against my original idea, there will be no group reservation. The good news is that you can already book the trains of your choice at www.vr.fi
News! The Helsinki-Rovaniemi night trains are now available for booking – GO TO www.vr.fi .  
Below you may see examples of reservation prices for the night trains: a seat (working seat provides you with a table) or a cabin (1 bed in female of male compartment).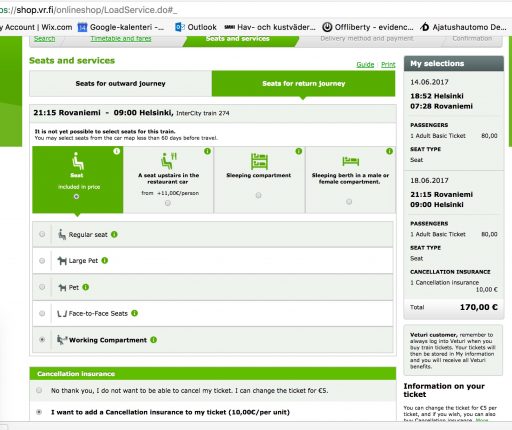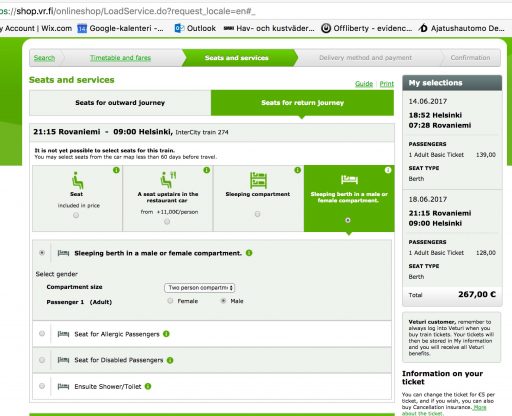 An other option is to travel to the film festival by air and these you need also to organise independently, in your earliest for low prices. For a 45 min flight from Helsinki to the city of Rovaniemi, please, do check the availability of the flights already today. Check e.g. Finnair or Norwegian pages for flights. For best prices, we recommend using online searchers available,  e.g. www cheapflights, ebookers, edreams, momondo, skyskanner, etc., one of your own choice.
A regular bus transportation (≈2 hours) from Rovaniemi airport/train station to the festival town Sodankylä. The ideal would be that you will either take the night train on the 14th (with the group) or a morning flight on the 15th, to catch the same bus from Rovaniemi to Sodankylä. Yet, you may organise your own travel schedule as you wish, there is a frequent bus service from Rovaniemi to Sodankylä and back during the festival days. From Rovaniemi airport a direct bus line takes you to Luosto Hotel (and Sodankylä). Check also Matkahuolto (travel service) for bus information. One way costs about 30 e.
Accommodation in Luosto Hotel: We have pre-booked 40 hotel rooms (festival package) in a comfortable Luosto Hotel 30 minutes away from the festival town (with bus transportation to Sodankylä festival town). The festival package includes room, breakfast, gym, spa, and unlimited use of festival bus between Luosto–Sodankylä. The festival package prices are per person 100e/night, 2 person rooms 55e/night/per person, and extra bed 40e/night/person. Contact Inga Örn at Luosto Hotel for your reservations and payment: inga.orn@laplandhotels.com or, telephone +358 40 7535893. Mention code: "Aalto University". Reservations are to be paid with credit card to the Luosto hotel, EXTENDED EARLY BIRD RATE for accommodation until April 10. When taking the night train with the group, your reservation starts on Wednesday the 15th of June until Sunday the 18th (when the festival ends). You may naturally stay longer, or arrive earlier, if you so wish.
Organising your festival accommodation independently in the festival town Sodankylä, start booking as soon as possible. Check the festival pages http://www.msfilmfestival.fi/index.php/en/travel-accommodation  The film festival people can help you to find a right place to stay! There's a plenty of places to stay in around Luosto region and new accommodation possibilities are popping up every day. For any accommodation inquiries in the town of Sodankylä, for instance, in family houses (Bed&Breakfast) or in cheap group accommodations (e.g. schools; bring your own sleeping bag), contact (Mon-Fri): majoitus@msfilmfestival.fi or call tel: +358 44 968 1664. The earlier you book, the better, as the festival is really popular!!!
Finally, we scsmi-organisers withdraw from any responsibility of the weather in Lapland. Sometimes it has been the warmest place (sic!) in Europe with over 30 °C and sometimes it has been snowing. Yet, what we can guarantee is a town crowded with enthusiastic film lovers and films all around the clock!